Royce, Engel, Smith, Bass Release Investigative Report on Problems with USAID's Largest-ever Contract
Press Release
Washington, D.C. – House Foreign Affairs Committee Chairman Ed Royce (R-CA), Ranking Member Eliot Engel (D-NY), Global Health Subcommittee Chairman Chris Smith (R-NJ) and Global Health Subcommittee Ranking Member Karen Bass (D-CA) today released a bipartisan report outlining problems with USAID's largest-ever contract that jeopardized access to life-saving health commodities and wasted taxpayer dollars. The report, entitled "Oversight Investigation: USAID Global Health Supply Chain Contract," concludes a year-long committee investigation with detailed recommendations to improve future performance.
"U.S. global health assistance is critical to the wellbeing of every American," said Chairman Royce. "It saves lives, and advances key U.S. economic and security interests. That's why no amount of waste or mismanagement can be tolerated. I'm encouraged that, thanks in part to this committee's work, USAID last week approved a new position at the Global Health bureau to serve as a senior supply chain leader, coordinating strategic planning and working to improve the supply chain program. And I look forward to partnering with the administration to implement other recommendations. We've got to get this right."
"American global-health assistance has shepherded tremendous progress around the globe," said Ranking Member Engel. "For this progress to continue, it's essential that medicines and other commodities get where they need to be on time. Despite the challenges the supply chain has faced, I'm encouraged by the performance improvements we've seen so far and hopeful that this report's recommendations will help accelerate those improvements going forward."
"I chaired the hearing on this particular case that underscored the need for vigorous Congressional oversight of federal contracts, especially when lives are at stake," said Rep. Smith. "People around the world with HIV, malaria and other ailments rely upon the timely delivery of vital medications in our flagship PEPFAR program, and there must be sufficient oversight and accountability to ensure that our global supply chain delivers treatment as quickly and efficiently as possible. Accountability reforms for federal contracts, including penalties for non-performing entities, should be on the table. Programs such as PEPFAR whose missions are directly impacted by federal contracts should have a major say in choosing the contract recipient."
"Programs like PEPFAR, the President's Malaria Initiative, and other population and reproductive health initiatives save millions of lives," said Rep. Bass. "It is vital we make sure that every dollar spent goes as far as it can go. What we want to do with this report is understand what happened in order to make sure that it does not ever happen again."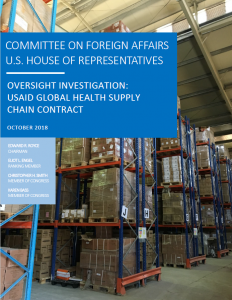 THE PROBLEM:
USAID's Global Health Supply Chain – Procurement and Supply Management (GHSC-PSM) contract is the primary vehicle through which USAID delivers commodities to 60 countries and technical assistance in 40 countries.
After the award of a $9.5 billion single "indefinite delivery/indefinite quantity contract" in 2015, the committee became aware of reports of declining on time delivery rates, depleted inventories and "stock-outs" of life-saving commodities. The committee's subsequent investigation revealed that significant mistakes were made by all parties involved in USAID's health commodities supply chain, at virtually every level – from contract solicitation, and the evaluation of proposals, through transition and implementation.
These mistakes led, among other things, to late delivery of mosquito nets, delayed initiation of HIV treatment, and the continued procurement of an outdated drug – nevirapine – despite direct orders from the State Department's Office of the Global AIDS Coordinator to the contrary.
KEY RECOMMENDATIONS:
The U.S. State Department and USAID must improve communication and coordination on the global health commodities supply chain. USAID's failure to adhere to previously agreed-upon operating standards led to wasteful spending and confusion on the ground. Consistent communication is critical to ensuring unity of effort and eliminating inefficiencies.
The U.S. State Department and USAID must improve oversight of the GHSC-PSM contract. A lack of personnel – including unfilled PEPFAR coordinator positions – in key oversight roles exacerbated problems.
Enhanced diplomatic engagement is necessary to ensure partner countries are living up to their own obligations and commitments under the U.S. global health strategy.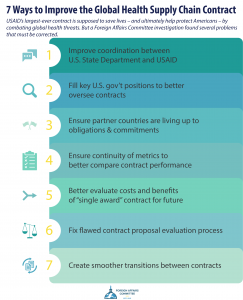 ###