Remarks: Chairman Royce on Women, Peace and Security
Press Release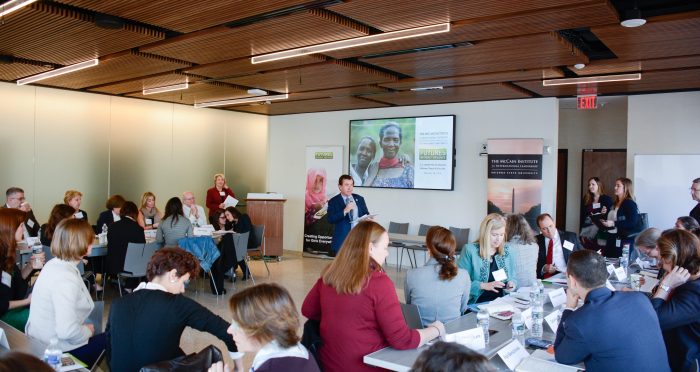 Washington, D.C. – House Foreign Affairs Committee Chairman Ed Royce (R-CA) today joined senior government officials for a discussion of the Women, Peace and Security (WPS) strategy, which is due to Congress later this year. The WPS strategy is a requirement of the bipartisan Women, Peace and Security Act, which became law last year and recognizes the critical role women play in achieving peace and national security.
Below are key excerpts from Chairman Royce's remarks (as prepared for delivery):
"[S]o often, …women don't have a seat at the table. They do the work on the ground, but they are limited in their ability to influence their leaders. As a result, their basic rights are overlooked – and undermined.
This first struck me as a serious human rights problem. I was overwhelmed by the levels of violence that women and girls face in places where their voices are marginalized – from human trafficking, to child marriage, to the unspeakable atrocities we are seeing today among, for example, the Rohingya in Rakhine State.
…I also noticed that, in places where women had the opportunity to serve in positions of authority, or to run a business just as a man would, not only was there less widespread violence against women – everyone else seemed to do better, too.
[W]hen women are able to push for their participation, and for improvements to their rights, we see real gains to the long-term security and prosperity of their societies.
When you think about it…this should be obvious. Women make up half the population. When their contributions are valued, when they are allowed to advocate for themselves, their families and communities reap the benefits. This improves stability and prosperity for everyone – maybe more than anything else we've tried to invest in.
The upcoming Women, Peace, and Security Strategy will be so helpful in continuing to drive these points home, and hopefully in creating even more change."
NOTE: In 2015, with the leadership of Chairman Royce, the House Foreign Affairs Committee began an in-depth look at the challenges and opportunities facing women and girls worldwide. Royce is a champion of the Women, Peace, and Security Act, which requires the United States to develop a comprehensive strategy to increase and strengthen women's participation in peace negotiations and conflict prevention.
###