Godspeed, Ed Royce
Blog
This week, the Foreign Affairs Committee unveiled a portrait of retiring Chairman Ed Royce (R-CA) in a ceremony at the National Archives. Speaker Paul Ryan (R-WI) was on hand to accept the portrait into the House collection, and he joined House Majority Leader Kevin McCarthy (R-CA), House Foreign Affairs Committee Ranking Member Eliot Engel (D-NY), Assistant Secretary of State Marie Royce and others in honoring the tireless statesman from Orange County.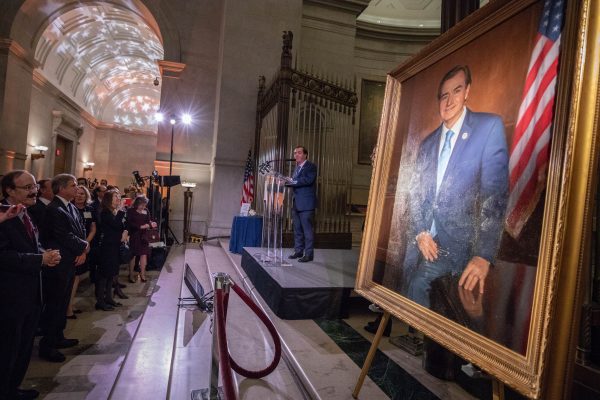 Chairman Royce speaks at the unveiling ceremony for his portrait, painted by artist Stephen Craighead.
Following are excerpts from Royce's remarks after the unveiling:  "In high school, [my father] wanted to be a journalist. But the Second World War interrupted that goal, and in its place left a memory of how thin the veneer of civilization really is. The photos he took at Dachau while in General Patton's Third Army exposed the horrors in that concentration camp. That struggle cost six million Jewish lives and the lives of more than 50 million others.
…The question of whether intelligent U.S. engagement and leadership in the world matters has already been answered by what transpired during its absence, during our isolationist history.
The U.S. must lead.
… I've made it my mission to help create opportunities for others to succeed – just as Marie and I have. This world is still a tough place, but we've helped move the ball in the right direction.
[Staff Director] Tom Sheehy and I have seen genocide's aftermath, and I have taken testimony from the survivors. But I've also seen Charles Taylor convicted for crimes against humanity and jailed for life as an example to the next despot that would try to use child soldiers to enforce terror. And I've seen the election of the first female president in Africa in his place.
We've empowered women and girls around the world. Marie and [Chief of Staff] Amy [Porter] have seen my fruitless efforts to bring elections back to the Congo, but they have also seen the release of hundreds of children as we left Kinshasa, back into the arms of their American parents, thanks to our engagement.
Of all this I am proud, but proudest of the team, and the role played by all of you, in this quest. Thank you, my friends – it has been a great honor to represent you these 26 years."
NOTE: As this Congress – as well as his chairmanship – comes to a close, Royce reviewed the Committee's considerable accomplishments in a letter to members. A copy is available for download HERE.