Royce: Time to Cut Off North Korea's Financial Lifeline
Blog
This afternoon on Fox Business, House Foreign Affairs Committee Chairman Ed Royce (R-CA) discussed steps that should be taken to address North Korea's dangerous acts. Key excerpts are below.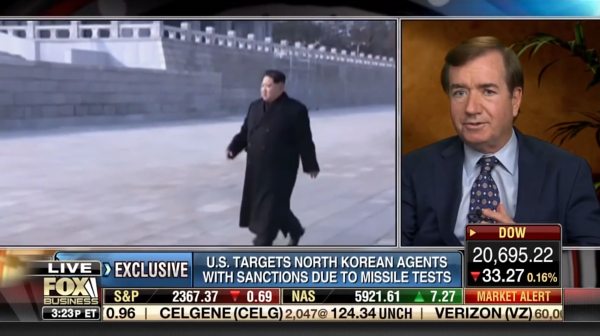 We need to cut off Kim Jong Un's funding right now.
"What we aim to do is drive a policy where those front companies and banks that right now are making it possible for North Korea to circumvent the previous sanctions that I passed last year – we are going to shut down their capability of transferring any of that hard currency into North Korea. We know that once before, North Korea was effectively sanctioned during the Banco Delta Asia incident. And during that time we know that their dictator could not pay his generals – not a good position for him to be in – and he had to shut down the production line for his weapons systems. That's what we need to do here. We need to cut off the life support for the regime's ability on this weapons program. We need to do it right now."
North Korea is a threat to the U.S. homeland.
"[T]he Obama administration had their own plan for North Korea. It was called 'strategic patience.' And strategic patience failed spectacularly. So now, as we see the consequences of that, and we see the new satellite images, we realize North Korea is going forward with a sixth nuclear test. And if they are successful in miniaturizing this weapon, they could reach all 50 states. So, as a consequence of this, you do have a bipartisan sense right now behind the legislation that I've pushed through. And we now have an administration, as you can tell from the steps today, that intends to implement [sanctions]."
NOTE: Earlier this week, the House Foreign Affairs Committee passed Chairman Royce's bipartisan legislation, H.R. 1644, which strengthens sanctions targeting North Korea's Kim Jong Un regime.  To learn more about the legislation, click here.
###