Chairman Royce Statement on Meeting with South Korean Foreign Minister
Press Release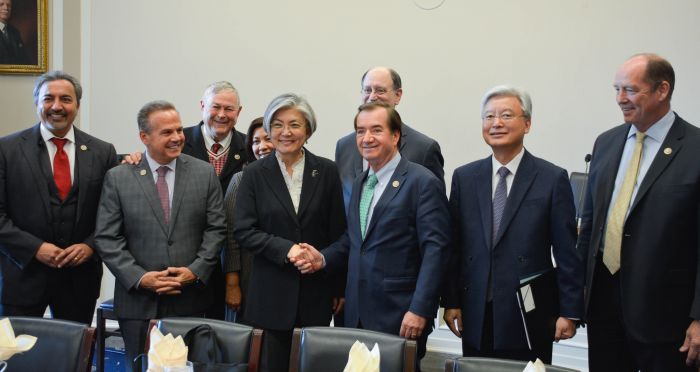 Washington, D.C. – This afternoon, the House Foreign Affairs Committee hosted Her Excellency Kang Kyung-wha, Minister of Foreign Affairs of the Republic of Korea, to discuss the importance of the U.S.-South Korea partnership in the midst of urgent North Korean nuclear and missile threats.
Following the meeting, Chairman Royce said: "It was a pleasure to see Foreign Minister Kang back in Washington. The bonds between our two countries run deep. We share common values and a vision of a peaceful peninsula. I'm glad we've stood shoulder-to-shoulder to finally apply needed financial pressure on the Kim regime. It is clear this pressure is driving North Korea back to the negotiating table.
"North Korean regimes have a long history of promises made and promises broken. We have to break this cycle. I appreciate President Moon's diplomatic efforts, but we must keep applying pressure – together – ounce by ounce. This is the only way to peacefully end the North Korean threat."
NOTE: In 2017, Chairman Royce led a bipartisan delegation to South Korea to advocate for peace, stability and economic growth. Chairman Royce is the author of the Countering America's Adversaries Through Sanctions Act (H.R. 3364) and the North Korea Sanctions and Policy Enhancement Act of 2016 (H.R. 757), the most sweeping sanctions legislation ever enacted against North Korea.
###