PHOTO: Chairman Royce Hosts King of Jordan
Press Release
Media Contact 202-225-5021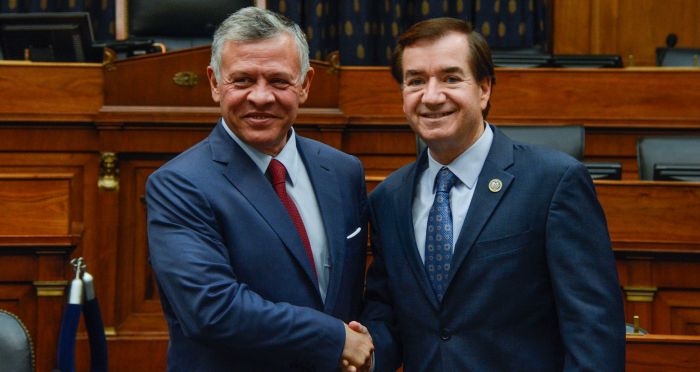 Washington, D.C. – This morning, House Foreign Affairs Committee Chairman Ed Royce (R-CA) welcomed King Abdullah II and Queen Rania of Jordan back to the committee. After the meeting, Chairman Royce said:
"The conflict in Syria is increasingly focused in areas that share a border with Jordan, which continues to generously host hundreds of thousands of Syrian refugees despite the pressure this puts on the country's already limited resources. Jordan has been a key partner in confronting the threat from ISIS, and has had a front-row seat to increasing Iranian aggression in the region.
"This committee strongly supports Jordan's role as a U.S. partner, and appreciates His Majesty's strong leadership."
NOTE: In February, the House passed the United States-Jordan Defense Cooperation Extension Act. The legislation, which received unanimous support in the Foreign Affairs Committee, increases assistance and defense cooperation with Jordan.
###