PHOTO: Amb. Nikki Haley, @HouseForeign Talk Africa
Press Release
Media Contact 202-225-5021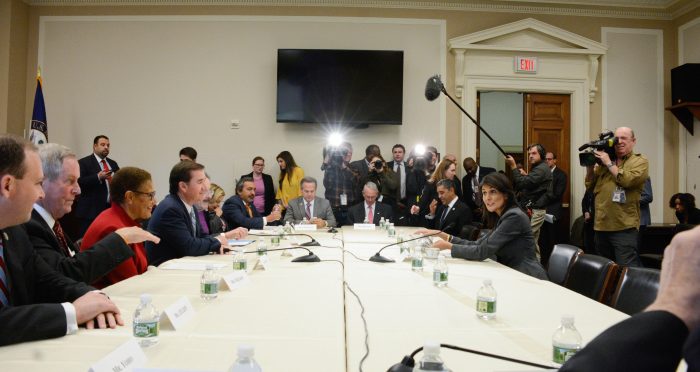 This morning, House Foreign Affairs Committee Chairman Ed Royce (R-CA) hosted the Honorable Nikki Haley, the United States Ambassador to the United Nations, to discuss her recent trip to Africa.
Below are Chairman Royce's remarks, as prepared for delivery:
"Your strong leadership and outspoken voice at the United Nations has not gone unnoticed. We welcome your willingness to discuss your recent visits to Ethiopia, South Sudan, and the DRC – three important countries on which the committee has focused.
"The U.S. has invested billions of dollars and considerable diplomatic efforts in South Sudan. Unfortunately, the situation has only gotten worse. Millions have fled the country, and millions more are displaced internally. All the while, corrupt leaders operate with impunity. Your clear message to President Kiir, that he has lost our trust and guarantee of support, was critical and timely.
"In the DRC, President Kabila has offered seemingly endless reasons for delaying the election to select his replacement. The election calendar – which was published after you made clear that this vote must happen next year – was a positive step. However, we should keep a close eye on Kabila, who must step down.
"Ethiopia has stepped up – making significant contributions to peacekeeping missions and taking in thousands of refugees. We must continue to support the country's struggle with cyclical droughts but also press the government to respect the democratic rights of all the Ethiopian people."