In Gaborone, Royce Lauds Strong U.S.-Botswana Partnership
Press Release
Media Contact 202-225-5021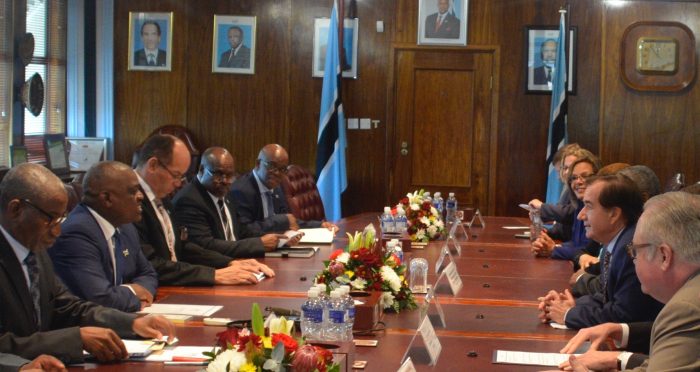 Gaborone, Botswana – House Foreign Affairs Committee Chairman Ed Royce (R-CA) and a bipartisan congressional delegation today concluded bilateral meetings in Botswana focused on conservation and economic development. 
Over two days, the delegation met with President Mokgweetsi Masisi, cabinet members, local leaders and U.S. Ambassador Earl Miller.
"It was good to be in Gaborone again," Chairman Royce said. "Botswana has long been a model of good governance and peaceful succession. I appreciate President Masisi's warm welcome, and I'm encouraged by his new administration's plans to continue growing Botswana's economy while protecting its precious natural resources.
"The greater Okavango River Basin is one of the world's most unique landscapes. Because of Botswana's leadership, its protected areas provide safe haven to the world's largest remaining population of wild elephants. But this fragile ecosystem, which spans several countries, is under threat from reckless development and international criminal organizations engaged in poaching.
"Transboundary conservation is critical, and the United States should play an important role. The animals and water that move through the delta don't know borders. That's why I'm a proud co-author of the DELTA Act to help promote stronger coordination among Angola, Botswana and Namibia to save this watershed and its majestic animals."
Members of Royce's bipartisan delegation include:
Rep. Gregory Meeks (D-NY)
Rep. Ileana Ros-Lehtinen (R-FL)
Africa Subcommittee Ranking Member Karen Bass (D-CA)
Rep. George Holding (R-NC)
Rep. Robin Kelly (D-IL)
Rep. Darin LaHood (R-IL)
NOTE: As Chairman of the Foreign Affairs Committee and the former Chairman of its Africa Subcommittee, Royce has championed a number of critical initiatives, including the Africa Growth and Opportunity Act, Electrify Africa and the END Wildlife Trafficking Act, that promote strong partnerships that benefit both the African people and the United States. The Foreign Affairs Committee unanimously approved the DELTA Act (H.R. 4819) on May 22. 
###