ICYMI: Chairman McCaul Joined Fox News Sunday with Shannon Bream
Press Release
Media Contact 202-226-8467
Washington, D.C. – House Foreign Affairs Committee Chairman Michael McCaul joined Shannon Bream on "Fox News Sunday" to discuss the latest on China, Russia's unprovoked war against Ukraine, the U.S. industrial defense base, and President Biden's classified documents scandal.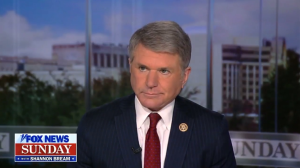 Watch the interview here.
On China Looking at Reunification of Taiwan:
"I think China is looking at reunification of Taiwan – that's how they call it. There are several ways to do that. The first one is to influence the election that will take place a year from today. President Tsai's party is running for re-election – China is hitting [Taiwan] hard, saying they're a proxy of the United States to go to war with China. If they succeed in that effort, like Hong Kong, without a shot fired, but if they don't win in that one they are going to look at a military invasion in my judgment. We have to be prepared for this. It could happen, and I think as long as Biden is in office, projecting weakness, as he did with Afghanistan that led to Putin invading Ukraine, that the odds are very high we could see a conflict with China and Taiwan in the Indo-Pacific."

On Sending Ukraine the Tanks They Need to Win:
"Well, the better Ukraine does against Russia… the more deterrence against China – that's very clear and an important point. With respect to the tanks, all that was necessary is the United States to give the signal that we're going to do this – to unleash the Leopard 2 tanks that are in Germany and Finland and the Netherlands – but ten other countries that needed permission to put their tanks in… The key was to commit Abrams tanks to unleash the Leopards.
"What's important, Shannon, is that Putin has changed his new general, took the butcher of Syria out and the new general in to do an offensive in the winter/spring. Now, Ukraine needs the resources to do a counteroffensive against Russia."
On His Concern of the U.S. Defense Industrial Base's Lack of Military Readiness:
"Our industrial defense base is broken. I sign off on all foreign military weapons sales. Three years ago,  [U.S. weapons] have yet to go into Taiwan, so we need that deterrence, but if we don't have the weapons, that's critical for deterrence. I would say that also, you know, one-third of the supplementals will go into our ability to replenish our stockpiles and have modernized our defense [and U.S. troops]."
On President Biden's Classified Documents Scandal:
"I agree with Tom Cotton. We are a separate branch of government. Article One, the first article under the constitution, and this administration has not shared these classified documents with the intelligence committee. I had access to those as well. I haven't seen anything.
"To put all of this in the proper context, first of all, I don't understand people taking classified documents home. If I did that, I'd be prosecuted. But having said that, where's the archivists through all of this? Why isn't he or she in the room when the President, Vice President are packing their boxes up? How did this happen? But more importantly in the Biden center, [millions of dollars] from China at the time at University of Pennsylvania, the Biden Center is being stood up. I have a lot of questions. I sent a letter to Secretary Blinken… the government in exile, the shadow government waiting. Did they have access to these documents? What were in the documents? Did they meet with foreign nation adversary actors from China? We don't know, but that's a very serious allegation the American people deserve to know what happened."
###