Chairman Royce Statement on Meeting with Armenia Parliamentary Delegation
Press Release
Media Contact 202-225-5021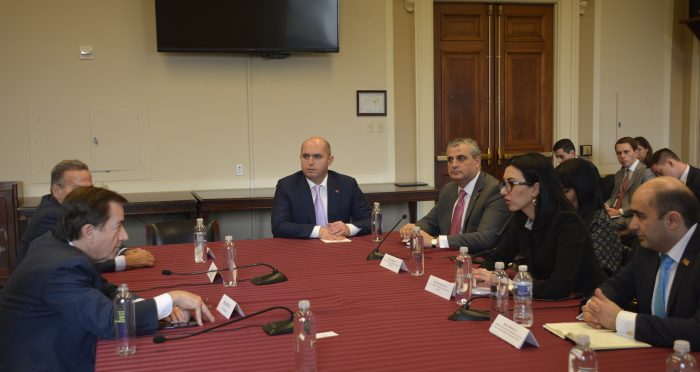 Washington, D.C. – House Foreign Affairs Committee Chairman Ed Royce (R-CA) today welcomed a bipartisan delegation of Armenia parliamentarians to the Capitol to discuss U.S.-Armenia relations, the crisis in Nagorno-Karabakh, and Armenia's acceptance of refugees from Iraq and Syria.
On the meeting Chairman Royce said: "Armenia and the United States enjoy a valuable and growing relationship. In particular, Armenia's contributions to counterterrorism efforts and its assistance to Syrian refugees have been crucial. But there are still many opportunities to further strengthen our relationship on security and human rights priorities in the region. I look forward to doing just that."
NOTE: Chairman Royce is an active member of the Congressional Caucus on Armenian Issues. In April of 2014, Royce led a bipartisan delegation to Armenia where the delegation commemorated the 99th anniversary of the Armenian Genocide and placed a wreath at Tsitsernakaberd, the national memorial to the Genocide.
Members of the Armenia delegation included: Hon. Arpine Hovhannisyan, Vice Speaker of the National Assembly of Armenia; Hon. Armen Ashotyan, Chair of the Standing Committee on Foreign Relations; Hon. Naira Zohrabyan, Chair of the Standing Committee on European Integration; Hon. Aghvan Vardanyan, Deputy Chair of the Standing Committee on Healthcare and Social Affairs; and Hon. Edmon Marukyan, Member of the Standing Committee on State and Legal Affairs and Protection of Human Rights.
###