Chairman Royce Leads Bipartisan Delegation to Taiwan
Press Release
Media Contact 202-225-5021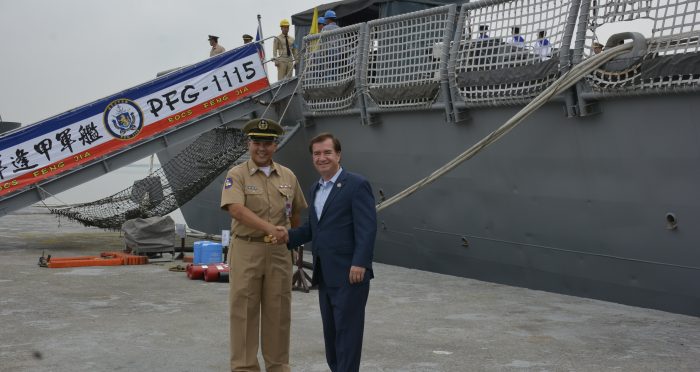 At Taiwan's Zuoying Naval Base, Chairman Royce and a bipartisan delegation visit U.S. frigates transferred to Taiwan
 
Taipei, Taiwan – House Foreign Affairs Committee Chairman Ed Royce (R-California) and a bipartisan congressional delegation used its second full day in Taiwan to visit Zuoying Naval Base, where two U.S. frigates – transferred to Taiwan – are being refurbished. 
 
The frigates were transferred to Taiwan as part of a legislative initiative Chairman Royce championed that sells or transfers excess U.S. ships to friendly nations.  Specifically, the initiative included the transfer of decommissioned U.S. Navy frigates to Taiwan to bolster Taiwan's defenses and help ensure peace in the Taiwan Strait.
 
Following the visit to the naval base, Chairman Royce said: "I've long worked to strengthen the critical U.S.-Taiwan partnership.  Americans and Taiwanese share a strong commitment to democracy, human rights, and the rule of law – these values are what make our friendship so resolute.  But our partner is facing new challenges.  That is why I've championed initiatives like the naval transfers, which strengthen the capability of our friends in Taiwan and ensure they have the tools to meet our shared security objectives.
 
"I am committed to further deepening this important partnership and I look forward to a successful and productive visit."
 
Members of Chairman Royce's bipartisan delegation include:
 
·         Rep. Ted Yoho (R-Florida), Chairman of the Asia and Pacific Subcommittee
·         Rep. Ami Bera (D-California), Vice Ranking Member of the House Foreign Affairs Committee
·         Rep. Jenniffer González-Colón (R-Puerto Rico)
 
Over the days ahead, the delegation will hold a number of meetings focused on jobs and trade opportunities.  This is the fifth delegation Chairman Royce has led to Taiwan as Chairman of the House Foreign Affairs Committee.  
###