Chairman Royce Talks Russia, North Korea on CNN's State of the Union
Blog
On Sunday morning, House Foreign Affairs Committee Chairman Ed Royce (R-CA) talked with CNN's Jake Tapper about Russia's ongoing efforts to undermine our democratic process and the continued need to exert maximum pressure on North Korea. Key excerpts below: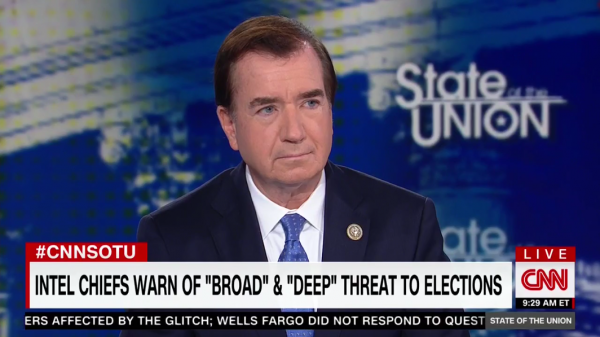 Russia is actively working to undermine our democratic process.
"The president should be straightforward with the American people about the threat to our election process that Russia or Putin in particular is engaged in… [F]or years we have watched Russian interference in trying to undermine our values using weaponized information against the West. … [W]e have got to show Putin that he'll have to pay a steep price if he doesn't stop this interference now."
The Admin needs to aggressively use tools Congress has provided to make Putin pay a price.
"I'm the author of the bill to put the sweeping sanctions on Russia. We need to use that more effectively now. And we need frankly to be more aggressive in using other tools we have like the '91 act where we can go after Russia for their use of nerve agents in the UK. Across the board we need to be pressing right now. We [also] have a possibility for legislation [the cyber deterrence and response act] that we put out of committee [unanimously] that is going to look at their cyber efforts against our elections here in the United States. … I hope to have it up in September when we go back into session."
Continued pressure will be key to peacefully ending North Korea's nuclear threats.
"The North Koreans have lied in every agreement that they've ever made, they've gone back on every agreement, they've strung out every agreement, they've used time in order to get concessions to get money to put into their weapons program. What's different this time is that we have a maximum pressure campaign … that frankly makes them feel the heat. And so in terms of the diplomatic efforts to get them to the table, to get them into negotiations what's key is that we not let up. … This is going to require a tremendous amount of pressure especially on Russia right now, which as you've seen lately is trying to figure out ways around those particular sanctions in terms of their engagement with North Korea."
###